For seniors who are aging or have mobility issues, the bathtub can be a dangerous place. Slips and falls are most likely to occur when someone tries to step in or out of the tub, but they can also occur when moving about while showering or while trying to lower or rise for a bath. Not bathing isn't an option, so what is a senior to do? Swapping their traditional bathtub with a walk in tub is a great solution.A walk in tub eliminates many of the concerns of a traditional tub. There's no need to step over the edge, as there's a door that allows entry. An elevated seat prevents falls when trying to rise or sit for a bath, and also provides a place to sit to avoid fatigue or for those who can't stand for long. The cost of $2,500 for a basic model up to $10,000 for a top of the line model with all the bells and whistles is more than made up for by the easy access and safety that seniors will feel after installation.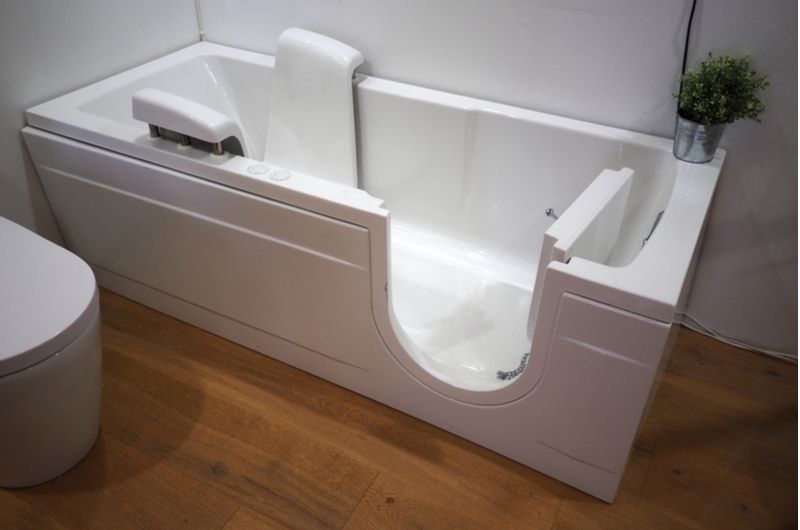 There are many benefits to swapping a traditional bathtub with a walk in tub to improve senior safety.
Can Prevent Slips or Falls
Because there is a entry door that opens for easy access, there is no need to step over the edge of the bathtub to get in or out. This greatly reduces the chances of slipping and falling. Slips and falls also occur from trying to stand on a slippery surface, or trying to sit down or stand up for a bath. Walk in tubs have an elevated seat that allows the user to sit while bathing without having to get too low. This further reduces the chances of slips and falls. It also gives seniors the freedom to bathe alone, instead of requiring assistance.
Next