For seniors who are aging or have mobility issues, the bathtub can be a dangerous place. Slips and falls are most likely to occur when someone tries to step in or out of the tub, but they can also occur when moving about while showering or while trying to lower or rise for a bath. Not bathing isn't an option, so what is a senior to do? Swapping their traditional bathtub with a walk in tub is a great solution.
A walk in tub eliminates many of the concerns of a traditional tub. There's no need to step over the edge, as there's a door that allows entry. An elevated seat prevents falls when trying to rise or sit for a bath, and also provides a place to sit to avoid fatigue or for those who can't stand for long. The cost of $2,500 for a basic model up to $10,000 for a top of the line model with all the bells and whistles is more than made up for by the easy access and safety that seniors will feel after installation.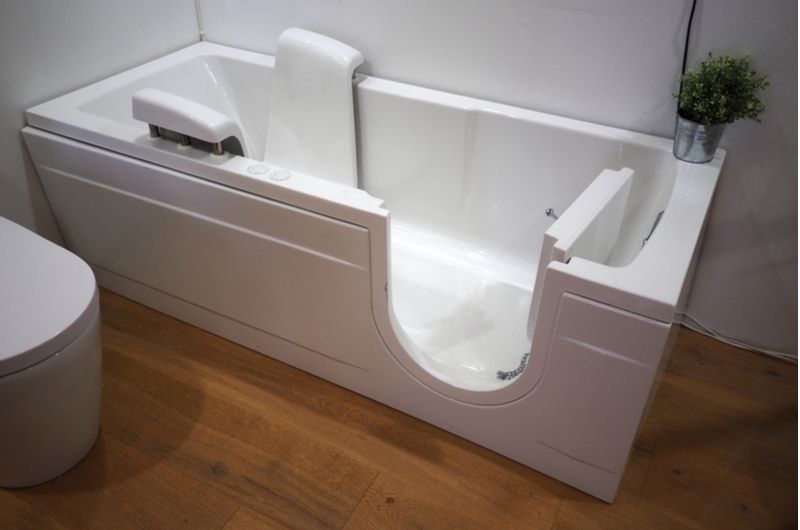 There are many benefits to swapping a traditional bathtub with a walk in tub to improve senior safety.
Can Prevent Slips or Falls
Because there is a entry door that opens for easy access, there is no need to step over the edge of the bathtub to get in or out. This greatly reduces the chances of slipping and falling. Slips and falls also occur from trying to stand on a slippery surface, or trying to sit down or stand up for a bath. Walk in tubs have an elevated seat that allows the user to sit while bathing without having to get too low. This further reduces the chances of slips and falls. It also gives seniors the freedom to bathe alone, instead of requiring assistance.
[/nextpage] [nextpage title="Next" ]
Easy to Open Entry Door
Walk in tubs can have doors that open inward, into the tub, or outward, into the bathroom. This provides great flexibility for those in wheelchairs or with small bathrooms. They also come with a variety of handles, ensuring that the user can easily open and close the door without assistance. If the door opens outward, you'll want to make sure that there's plenty of room, so it doesn't impair mobility.
An inward opening door will be usually be narrower, while an outward opening door provides a wider space for entry and exit. For those with severe mobility issues, an outward opening door will provide more room for maneuvering.
[/nextpage] [nextpage title="Next" ]
Heated Seats
With a traditional bathtub, you could run the bathwater first, and eliminate feeling cold plastic, metal, or porcelain against your bare skin. With a walk in tub, however, you have to be in the tub before you can fill it. Heated seats warm up before you get in, so you can stay toasty warm while you wait for your bath to fill, rather than shivering. Some even heat into the lower back region. The heated seat also keeps the water a comfortable temperature as you bathe, and also keeps you warm when you're sitting, waiting for the tub to drain so you can get out and dry off.
[/nextpage] [nextpage title="Next" ]
Therapeutic Massage Jets
There are many medical conditions that can benefit from a bit of massage. Diabetes, fibrosis, insomnia, poor circulation, back issues, and even balance challenges can be helped by massage. A walk in tub can come with therapeutic massage jets that help with those conditions. The jets can also soothe aching muscles, ease joint pain, and relieve stress. Some also provide miniscule air bubbles that add to the massage experience, providing a soothing spa-like experience while in the bath.
[/nextpage] [nextpage title="Next" ]
Railings and Grips on Each Side
Walk in tubs are equipped with railings and grips on both sides, giving seniors added stability and safety when standing, sitting, entering and exiting the tub. This allows for easier access, and provides another layer of security to prevent slips and falls. Particularly for seniors in wheelchairs or using walkers, these hand railings and grips can help them more easily move back and forth without fear of falling.
Because they come equipped with railings, you also don't have to worry about purchasing and attempting to install them yourself, and potentially damaging the bathtub in the process.
[/nextpage] [nextpage title="Next" ]
Easy to Reach Water Knobs
Everyone probably has at least one memory of using their toes to turn on the hot water tap as their bath began to cool. A walk in tub is taller than a traditional bathtub, but not as long. This allows the user to simply lean forward from their seat and turn the water on and off. The easy to reach knobs give the user the ability to easily fill and drain the tub and add more water without contorting themselves into awkward positions that might cause strain or create back issues.
Easy to reach knobs also ensures that if the water is too hot or cold, the user can quickly and easily adjust the temperature before they get too cold or worse, get scalded by water that's too hot.
[/nextpage] [nextpage title="Next" ]
Anti-Slip Flooring
The slippery floor of a traditional bathtub poses many dangers for seniors or those with mobility issues. Simply moving around in the shower to wash your body or shampoo your hair could result in a slip or fall, and lifting your legs to step over the edge to get in and out can also be a hazard.
Walk in tubs have a door that allow you to simply walk in to the tub, but they also have anti-slip flooring to further ensure that you can move about safely and securely. This is usually some kind of coating with a gritty texture, but the texture is just enough to provide secure footing, not enough to damage the sensitive and potentially thinning skin of senior's feet. Anti-slip flooring also ensures that users can enter and exit the tub without assistance.
[/nextpage]
[nextpage title="Next" ]