Nowadays, pretty much everyone - regardless of socioeconomic status or age - has a cell phone. But for seniors with faltering eyesight, hearing issues, and arthritic fingers, using a cell phone can become increasingly difficult. These signs of aging are quite common in the elderly and although they want and need cell phones, they are searching for a product that is slightly different than what the masses prefer. Just because you are elderly doesn't mean that you want to avoid technology altogether – it might just mean that you need a modified version of popular tech gadgets.Where most people love to use smartphones for emailing, watching videos, texting and surfing the Internet, elderly people prefer a more basic phone that makes connecting with friends and family members fast and simple. Most seniors don't care about the latest photo editing app or trendy game. They prefer a simple, basic phone that is easy to see and use. In the case of an emergency, they need to be able to navigate their cell phone in a quick and timely manner. The last thing they want to worry about is unlocking a complicated phone or being unable to dial the correct emergency number.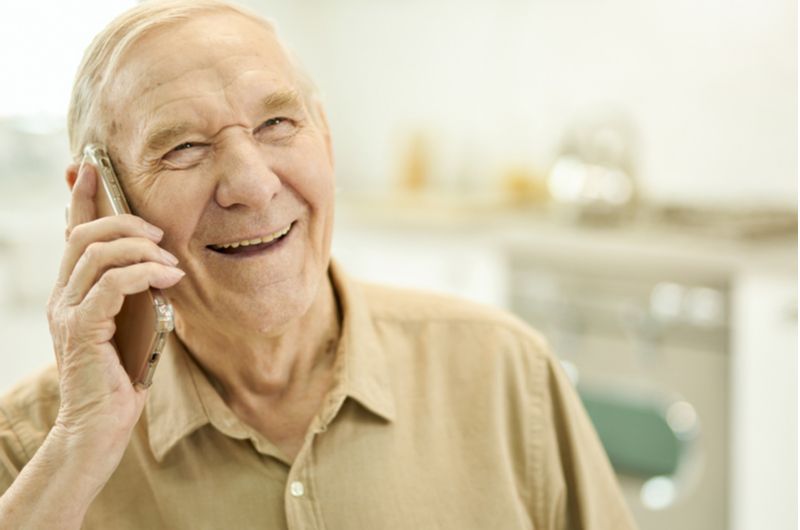 Luckily, there are plenty of companies that have created cell phones that are made just for seniors. With simplified features and senior-friendly options, any senior can now efficiently use a cell phone. Let's go over some of the main features of a senior cell phone that makes them incredibly easy and useful for people over the age of 55+.
Clearly Visible, Large Screens
A common sign of aging is vision impairment or loss. Although this can be helped with glasses or contacts, some seniors still experience vision interferences. Because cell phones are already small devices, seniors may have difficulty reading the screen properly. Or the screen might not be bright enough to their liking. This is where senior cell phones step in. They are equipped with large, clearly visible screens so that anyone, regardless of their vision quality, can read the screen. This makes sending text messages a breeze! Long gone are the days of misdialing a phone number. There is nothing more frustrating then needing to call a friend or family member during an emergency only to be unable to see what number you are actually dialing.Or perhaps you needed to use your address book to look up a phone number, but the screen is so small, you can't read anything. There are plenty of reasons why having a large screen on a cell phone can be helpful for seniors. Cell phone manufacturers have gone through extensive studies to learn what seniors need out of a cell phone so that they could create the ideal phone for them to use. Senior cell phone have brightness adjusters so you can make the screen as bright or as dim as you'd like. Just because people are elderly doesn't mean that they don't want or need a cell phone to be connected to their friends and family members.
Next