Retiring in the beautiful state of Hawaii is a life that many dream of but few actually get to experience. The islands of Hawaii — especially the most developed island, Oahu — are a popular destination for both tourists and retirees, and it is no wonder why this is the case. How would you like to wake up every morning and look out your window at a scene straight off of a postcard? If you are considering making this move, then here are a few things to consider when exploring your options.
Senior apartments in Hawaii come in a wide variety of shapes, sizes, conditions and cost. Those located in the heart of Waikiki will put you in walking distance to a multitude of shops and local businesses for all of your shopping needs. If you are looking for affordable apartments on Oahu that are far away from the hustle and bustle of Waikiki, then you might want to look for your new home on the Waianae coast, at the far northwest side of the island. If your budget is a bit higher, then you have more options and might want to retire on the Windward side of the island, perhaps in Kaimuki — which is home to some of the most beautiful beaches in the world.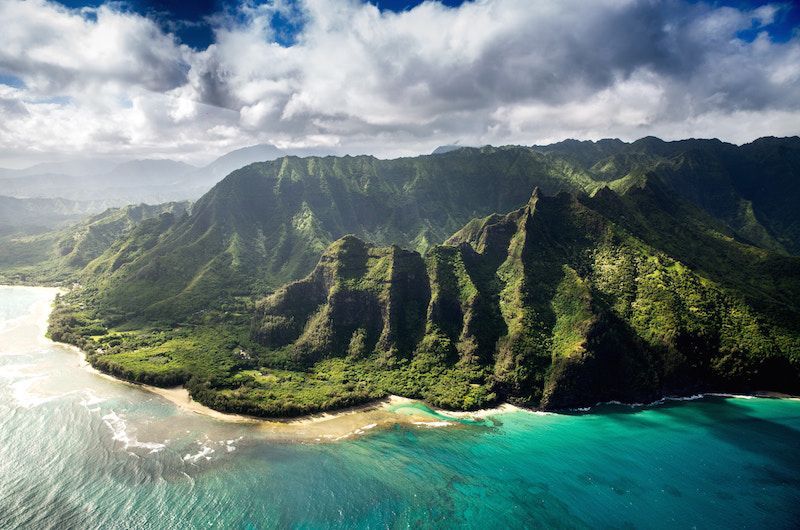 But many seniors prefer to settle down on one of the other islands and avoid Oahu completely. If you want more of a country living experience, then you might want to try the outer islands. Many of these also have senior apartment communities for various budgets, so if Oahu doesn't have what you're looking for, then consider some of the other islands.
Senior Apartments in Hawaii
The outer islands are not as densely populated as Oahu, so that might be just the speed of life you are looking for. Keep in mind, though, that these islands often lack the modern infrastructure that Oahu brings. If you want to hold onto the advantages of modern living — including access to a greater variety of healthcare facilities — then you'll need to think carefully about this when choosing an island.
[/nextpage] [nextpage title="Next" ]
Benefits of Living in Hawaii
The benefits of living in the islands are fairly obvious. This is paradise. The temperature is moderate all year round. The air is humid, which might take some adjustment at first — but the added moisture works wonders for your skin. All year round you have lush, green mountains surrounded by crystal blue waters. Once you've experienced the clear, temperate waters of Hawaii's beaches, you'll never want to go back in the water anywhere else in the United States. There's just no comparison. Many of the people there are some of the nicest folks you'll ever meet, as they embody the true sense of the Aloha spirit. "Live Aloha" isn't just a bumper sticker that you'll see plastered on cars around the island. It's a also a way of life for many island residents, especially the older generations.
[/nextpage] [nextpage title="Next" ]
How to Find an Apartment
Finding an apartment in Hawaii is fairly easy. If you are somewhat computer savvy, you can search online for listings of apartment rentals, and many websites are dedicated to show current real estate listings. If that seems a little intimidating, you can enlist the aid of a local real estate agent to show you around and help you find the right community for you needs. If you want the perspective of a local resident, then you should definitely find yourself a realtor to help guide you through the the process. You can also read real estate publications and newspaper listings for current openings and to get a feel for what the prices are like in different areas.
[/nextpage] [nextpage title="Next" ]
Average Cost of Living in Hawaii
Paradise comes at a price. While living in this tropical paradise might not be quite a expensive as cities like San Francisco and New York City, the costs can be fairly high. This isn't surprising, as the Hawaiian islands are isolated in the middle of the Pacific Ocean and most goods need to be shipped in from the Mainland. Also, keep in mind that real estate in Hawaii is also more expensive than most areas in the country, so that high overhead needs to be factored into the operating costs of every business in Hawaii. But you don't need to retire to the most expensive areas like Hawaii Kai and Waikiki. By moving out to other areas of Oahu, you can save a lot of money on housing and other expenses.
[/nextpage] [nextpage title="Next" ]
Meet People Your Age
In Hawaii you are bound to meet people your age, no matter which island or which town you settle into. If you decide to live in a senior living community, then you'll be surrounded by your peers. So if that interests you, then you should consider that. You'll likely bump into a variety of people from around the world who have decided to make this island paradise their home in their golden years. If you've never lived in a melting pot like Hawaii, get ready to your horizons to be expanded. You'll be exposed to many different cultures and ways of life. It's likely to be a fun and eye-opening experience.
[/nextpage] [nextpage title="Next" ]
Spend Time Outdoors
Another major benefit of living in the Hawaiian islands is that the climate is to moderate year round that you can spend a lot of time outdoors. Be sure to load up on sunscreen, even on cool and cloudy days, as the sun can be harsh on your skin. If mobility isn't much of an issue for you, then you might want to enjoy some guided hikes and tours of various trails and tourist attractions around the island. At some point, you'll also want to visit the other islands too. The Big Island of Hawaii is a popular destination. It doesn't have the smooth, sandy beaches that Oahu does, but the Big Island does have gorgeous rocky coastlines and the famous green and black sand beaches. The sand there is course — more like gravel than traditional sand — but it's worth a stop. Maui and Kauai are also popular tourist destinations, and they each have their own appeal. If you want to experience rural living in Hawaii, then these islands might be just what you're looking for.
[/nextpage] [nextpage title="Next" ]
Enjoy Your Retirement
If you want to enjoy your retirement and have the financial security required to settle down in this tropical paradise, then you are in for a treat. There's a reason why people flock to Hawaii from all around the world. This place is like a touch of heaven on earth. The pace of life is certainly a lot slower and more relaxing than what you might be used to in the big cities of the Mainland. If you want to enjoy your retirement to the fullest extent, then you must consider retiring in Hawaii. Take a trip to the islands to get a taste of the culture, the landscape, the beaches, the food and the people. You'll never know for sure if it's the right fit for you until you step foot on the beach and see for yourself.
[/nextpage]
[nextpage title="Next" ]